Ripley & District Christmas Hamper Program - This event has already occurred
Event Details:
*Donations delivered to families Nov. 29th*


The Ripley and District Christmas Hamper Program is once again assisting those in Ripley and former Huron Township who need some extra help this Christmas.
We welcome donations of cash or gift cards.
Cheques can be made out to Ripley and District Lions.
Mailing address for cheques: Ripley Lions Hampers, 119 Hemlock Street, Kincardine, Ont N2Z 2X3.
E-transfers may be sent to ripleylionshampers@gmail.com.
For questions about donations or the Hamper program, please contact John at (519) 955-9884.


Each individual/family will receive a gift card for groceries, clothing, and toys for children under the age of 18, who reside in the family home.
Individuals or families may be referred through school, community service agencies or churches.
Referrals must be received by Nov. 24th. Delivery date for gifts will be Nov. 29th.
If you are in need or to refer individuals or families in need, please contact Elaine (519) 395- 0239, or LouAnne, (519) 385-5823.
We ask that you seek permission from the individual or family prior to making a referral.
The Ripley and District Christmas Hamper Program is funded by the generous donations of individuals, service groups, churches and businesses in our community. Thank you for making this a happier Christmas for individuals and families in our community!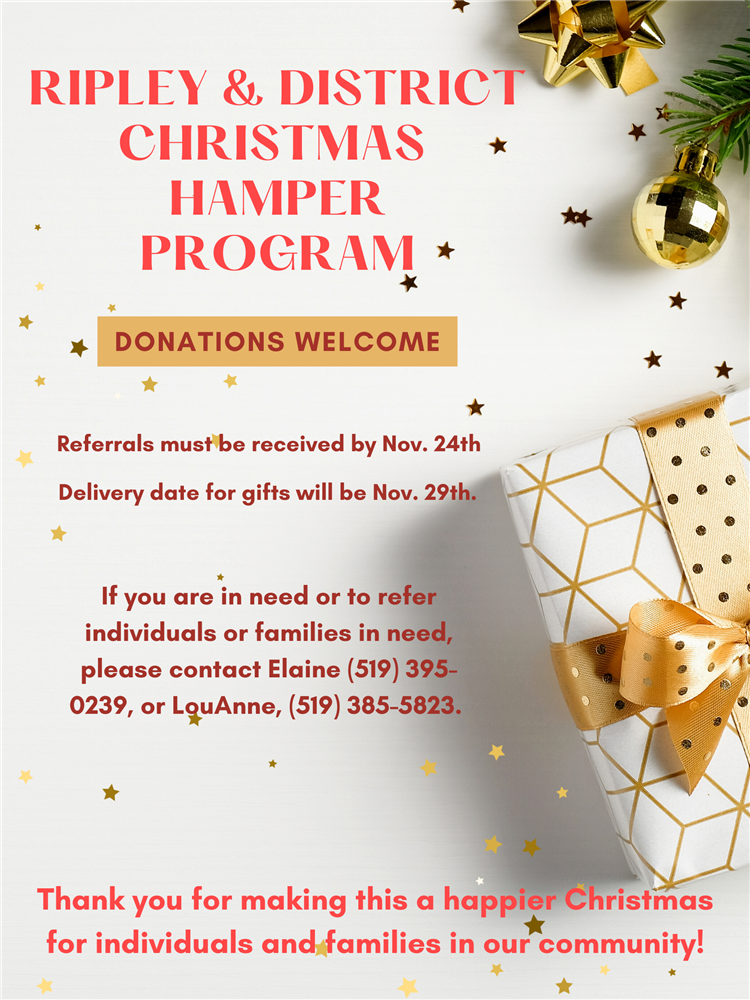 Title
Date: Date
Location: Location
Category: Category